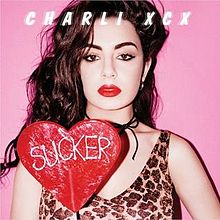 Lirik "Boom Clap" dari Charli XCX ini dipublikasikan pada tanggal 9 Januari 2015. Lagu ini ada di dalam album Sucker yang didistribusikan oleh label Atlantic. Berikut cuplikan teks lagunya "This must be love Boom! Clap! / Boom! Clap! / …". Single lainnya dari Charli XCX diantaranya Break The Rules, dan Doing It.
---
Lirik Lagu Boom Clap
Boom! Boom! Boom! Clap!
You're picture perfect blue
Sunbathing on a moon
Stars shining as your bones illuminate
First kiss just like a drug
Under your influence
You take me over you're the magic in my veins
This must be love
Boom! Clap!
The sound of my heart
The beat goes on and on and on and on and
Boom! Clap!
You make me feel good
Come on to me come on to me now
Boom! Clap!
The sound of my heart
The beat goes on and on and on and on and
Boom! Clap!
You make me feel good
Come on to me, come on to me now
No silver or no gold
Could dress me up so good
You're the glitter in the darkness of my world
Just tell me what to do
I'll fall right into you
Going under cast a spell just say the word
I feel your love
Boom! Clap!
The sound of my heart
The beat goes on and on and on and on and
Boom! Clap!
You make me feel good
Come on to me come on to me now
Boom! Clap!
The sound of my heart
The beat goes on and on and on and on and
Boom! Clap!
You make me feel good
Come on to me come on to me now
You are the light and I will follow
You let me lose my shadow
You are the sun, the glowing halo
And you keep burning me up with all your love, uh
Boom! Clap!
The sound of my heart
The beat goes on and on and on and on and
Boom! Clap!
You make me feel good
Come on to me come on to me now
Boom! Clap!
The sound of my heart
The beat goes on and on and on and on and
Boom! Clap!
You make me feel good
Come on to me come on to me now
Boom! Clap!
The sound of my heart
The beat goes on and on and on and on and
Boom! Clap!
You make me feel good
Come on to me come on to me now
Boom! Clap!
The sound of my heart
The beat goes on and on and on and on and
Boom! Clap!
You make me feel good
Come on to me, come on to me now
---
Download Lirik Lagu
Download teks lagu di atas langsung ke PC / HP kamu (format PDF) dengan cara mengklik tombol PDF berikut ini: