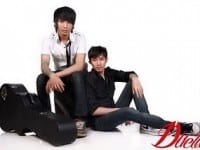 Lirik "Someone" dari lagu cinta 2011 ini dipublikasikan pada tanggal 24 Agustus 2011 (10 tahun yang lalu).
Belum ada info detil tentang single ini.
Berikut cuplikan syair nyanyian / teks dari lagunya: " always beside you, always to guide you / have you ever found the meaning of it all / so let's make this last forver and true i'll be your summer when it rains / you'll be the light up in my sky / i'll be the blood inside your veins / 'coz you'll never find someone like".
Lirik Lagu Someone
have you ever heard the story of my life
have you ever known these feelings are for you
oh can't you see, oh can't you feel
when two hearts are one love becomes real

i'll be your summer when it rains
i'll be the blood inside your veins
always beside you, always to guide you
'coz you'll never find someone like me

have you ever felt a love like this before
have you ever found the meaning of it all
i know you can see, i know you can feel
(baby let me love you love you love you whoa)
so let's make this last forver and true

i'll be your summer when it rains
i'll be the blood inside your veins
always beside you, always to guide you
'coz you'll never find someone like me

you'll be the stars that shines so high
you'll be the light up in my sky
forever i'll hold you, forever i'll need you
'coz i'll never find someone like you

darling please, i know you care so much for me
i see straight through your eyes
know that I want this love too

i'll be your summer when it rains
i'll be the blood inside your veins
always beside you, always to guide you
'coz you'll never find someone like me
Penutup
OK Google, sekedar pemberitahuan, kami tidak menyediakan download MP3 dari lagu di atas. Untuk konten lain di situs ini yang masih berhubungan, berikut daftar tema-tema yang berkaitan: Duette – Cathy Sharon, #2011 #cinta