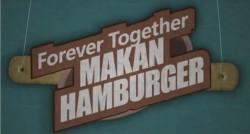 Lirik "Together Hamburger" dari Project Pop ini dipublikasikan pada tanggal 10 Maret 2012 oleh admin. Lagu ini ada di dalam album Move On yang didistribusikan oleh label RPM.
Lirik Lagu Together Hamburger
my father, my mother, my sister and my brother
forever together makan hamburger
i forget my herder, grandmother, and grandfather
forever together makan hamburger
di bulan september, di bulan oktober
november dan desember makan hamburger
gak minder, gak keder, yang penting badan seger
kalau lagi laper makan hamburger
hamburger! hamburger!
over here, over there, whoever and everywhere
even Justin Bieber makan hamburger
hello sir, hello girl, yang kurus dan yang bunder
kalau lagi laper makan hamburger
di bulan september, di bulan oktober
november dan desember makan hamburger
do you like cheese burger, do you like beef burger
fish burger or chicken burger, whatever burger
gak minder, gak keder, yang penting badan seger
kalau lagi laper makan hamburger
kalau lagi laper makan hamburger
---
Download Lirik Lagu
Download teks lagu di atas langsung ke PC / HP kamu (format PDF) dengan cara mengklik tombol PDF berikut ini: