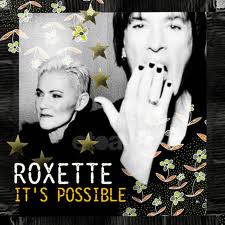 Lirik "It's Possible" dari Roxette ini dipublikasikan pada tanggal 7 Maret 2012 (10 tahun yang lalu).
Belum ada info detil tentang single ini.
Berikut cuplikan syair nyanyian / teks dari lagunya: " I can't get you out of my system / It's so revealing / When you're givin' that look / People tell me i don't have a clue / I''s possible, / When you're givin' that look / I just wanna oh-oh-oh! [break] The sound of your heartbeat, promise so much (x2) Du du do do do".
Single lainnya dari Roxette di antaranya Me & You & Terry & Julie, Lover, Lover, Lover, Turn Of The Tide, Touched By The Hand Of God, dan Easy Way Out.
Lirik Lagu It's Possible
Got to grab a pen and a paper
Got to write a tiny note to you,
I can't get you out of my system
There's something very difficult 'bout you

Hook:
It's possible,
When i get that feeling
It's so revealing
It's possible,
When you're givin' that look
I just wanna oh-oh-oh!

People tell me all the wrong things
People tell me i don't have a clue
There's something in the air, i just know it!
Like patches on the skin it stick like glue.

Hook:
I''s possible,
When i get that feeling
It so revealing
It's possible,
When you're givin' that look
I just wanna oh-oh-oh!

[break]

The sound of your heartbeat, promise so much (x2)

Du du do do do do
Got to write a tiny note to you
Du do do do do do
There's something very difficult about you!

Hook:
It's possible,
When i get that feeling
It's so revealing
It's possible, when givin me that look
I just wanna oh-oh-oh!

When i get that feeling it's so revealing
It's possible,
When you're givin' that look
I just wanna oh-oh-oh! (x3)
Penutup