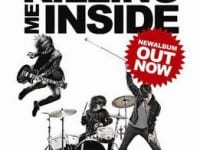 Lirik "Awake" dari Killing Me Inside ini dipublikasikan pada tanggal 18 Agustus 2011 (10 tahun yang lalu).
Belum ada info detil tentang single ini.
Berikut cuplikan syair nyanyian / teks dari lagunya: " What is like to be loved to be killed to be dying? / I want you back to me i need you now / And with the blood shattered all over the blade / Its scaring me / That the feeling here inside my heart / I want u back to me i need want you now / No more danger makes me".
Single lainnya dari Killing Me Inside di antaranya Menuju Cahaya, Luka, Hilang, Kau Dan Aku Berbeda, dan For One Last Time (The Torment Part II).
Lirik Lagu Awake
Take my heart and carry me now
And don't let me out to get a terrible day
I cant feel my hearth and the blood
That youre sharing me is killing me
And i just want to wake up and say
What is like to be loved to be killed to be dying?
That the feeling here inside my heart
I want you back to me i need you now
I want you back to me i need you now
I cut my vain, i'm waiting in pain
And with the blood shattered all over the blade
I got to say, the way that you are counting me
Its scaring me
But baby i just came here to say
What is like to be loved to be killed to be dying?
That the feeling here inside my heart
I want u back to me i need want you now
What is like to be loved

To be killed to be dying?
DIstressed
Out between you bit me
No more danger makes me feel
Just like dying now
Cut out my finger and pull the trigger
Right on my disaster
I felt its like i want to celebrate the day
Just like the kids with their lollypop
Just like i have the dagger in my hand
And i know it felt, i know it felt its so wonderful
I cry myself but with the happyness and joy
I dyed the sky with the colour of red
Because i dont want to miss a thing
I finally free just like i'm the almighty
Penutup