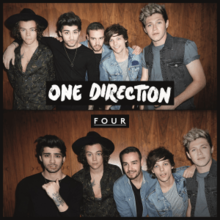 Lirik "Steal My Girl" dari One Direction ini dipublikasikan pada tanggal 20 November 2014 (8 tahun yang lalu).
Belum ada info detil tentang single ini.
Berikut cuplikan syair nyanyian / teks dari lagunya: " 'cause she is the one / Her dad calls me 'son', / Alright (alright) I know, I know, I know for sure [2x] / Everybody wanna steal my girl / Couple billion in the whole wide world / Na na She belongs to me Kisses like cream, / Alright (alright) I don't".
Single lainnya dari One Direction di antaranya End Of The Day, Hey Angel, Perfect, Infinity, dan Drag Me Down.
Lirik Lagu Steal My Girl
She been my queen
Since we were sixteen
We want the same things,
We dream the same dreams,
Alright (alright)

I got it all
'cause she is the one
Her mom calls me 'love',
Her dad calls me 'son',
Alright (alright)

I know, I know, I know for sure

[2x]
Everybody wanna steal my girl
Everybody wanna take her heart away
Couple billion in the whole wide world
Find another one 'cause she belongs to me

Na na na na na na (oh, yeah)
Na na na na na na (alright)
Na na na na na na
Na na

She belongs to me

Kisses like cream,
Her walk is so mean
And every jaw drop
When she's in those jeans,
Alright (alright)

I don't exist
If I don't have her
The sun doesn't shine,
The world doesn't turn,
Alright (alright)

But I know, I know, I know for sure

[2x]
Everybody wanna steal my girl
Everybody wanna take her heart away
Couple billion in the whole wide world
Find another one 'cause she belongs to me

Na na na na na na (oh, yeah)
Na na na na na na (alright)
Na na na na na na
Na na na na na na

She knows, she knows
That I've never let her down before
She knows, she knows
That I'm never gonna let another take her love from me now

[2x]
Everybody wanna steal my girl
Everybody wanna take her heart away
Couple billion in the whole wide world
Find another one 'cause she belongs to me

Na na na na na na (oh, yeah, alright, yeah)
Na na na na na na (alright)
Na na na na na na Na na

She belongs to me

Na na na na na na (oh, yeah)
(She belongs to me, yeah)
Na na na na na na (alright)
Na na na na na na

She belongs to me
Penutup